Top 10 Wildlings
Updated: February 19, 2016
Top 10 Wildlings
I have had to cash in some prospects this season after extensive drafting. Notably Travis Konecny, Kasperi Kapanen, Jake Virtanen, Jack Roslovic, Jansen Harkins and Sebastian Aho. I do however still have a decent top 10 list that includes all positions and all varieties of sim players.
#1. Jared McCann
McCann is a former Greyhound who surprised the Canucks cracking the roster this season as a 19 year old. His excellent two way play make him a coaches pet. Combine that with his strong hockey sense, wicked shot and upward mobility and he should be a mainstay on the Canucks roster for years to come.
#2. Lawson Crouse
Lawson was returned to the OHL Frontenacs this season after a strong training camp in Florida. It was the right move allowing him to develop his skills which include great hands and the ability to use his size to his advantage. He will take time to develop as most power forwards do but my hope is that the pay off is worth the wait.
#3. Zachary Senyshyn
Another Hound pick, Zach was seen as a gamble at the NHL entry draft due to the fact he did not get a ton of ice time on a stacked hounds team. But anyone who has watched him knows he has great speed and skill and the ability to play the game at a high level. He is developing into an NHL sniper (34 goals in 53 games) and I am very happy with his development so far this season.
#4. Dmytro Timashov
Speed and creativity, his size is small but his skill is large. I honestly can't wait to see him in the NHL, I think he's going to be amazing. He was fun to watch at the World Juniors and will be even more fun to watch with the Leafs.
#5. Jeremy Bracco
Similar to Timashov, Bracco is small in stature and loaded with skill. Since leaving the US and joining the Rangers of the OHL he has exploded producing 52 points in 41 games. He is another talented winger I am hoping will develop into a top 6 forward.
#6. Ilya Sorokin
I had to bite my tongue when i drafted Ilya. I try to steer as far away from Russians as i can but in that draft position it made sense to gamble. And boy am i glad i did. He has been absolutely lights out in the KHL this season putting up inhuman numbers. He's playing against pro talent and has the size to be an NHL starter. Could be the heir apparent in Brooklyn sooner rather than later.
#7. Brycen Martin
A smooth skating offensive minded blueliner who has slowed down since being traded in the WHL but is still developing better than i expected. The Sabres have been good at the draft, especially with dmen so i expect Martin to have as good a shot as any at feeding Eichel and Reinhart in the not too distant future.
#8. Eric Cornel
Been watching this kid develop and excited about what he can do. Another Sabres prospect who has all the tools needed to become an NHL player. Good leader and never takes a shift off, he will make the NHL and his determination will make him a valuable asset.
#9. Noah Juulsen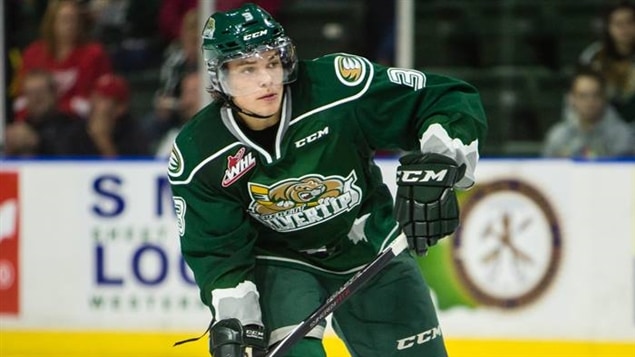 His stats have taken a hit this year but he's spent considerable effort in improving his play in his own end. You can't teach offense so I am hoping he is developing his defense to give him the best chance of taking the next step. Overall a smart mobile kid with skill who will take time to develop but has amazing upside.
#10. Denis Malgin
Small but skilled, he really impressed me at the World Juniors. He is a Tallon pick who i consider a dark horse that could turn into a slick little talented NHL player. Not a huge gamble where i picked him but so much upside I consider him one of my top 10 specs.
Recent Graduates
Artemi Panarin aka "The Breadman"
My mini-kane has surpassed all expectations and will be playing on the Wilds top line and PP this upcoming season.
Bo Horvat
Bo knows i had him penciled into my top 9 this season but with the veterans we added this offseason he will most likely start the year on the farm. Sorry Bo.
Colin Miller
Another grad who may be pushed back into the prospect pool because of pro depth. The trade to Boston has done wonders for his career and he is showing to be a great pick up for the Bruins.
Frank Vatrano

Another Bruins who will be joining the Wild in season 22. Frank is a small offensive dynamo who I hope will be able to become a full time NHL and DHL player very soon.