Best and Worst of UFA
Updated: February 19, 2016
UFA isn't done yet but it probably should be done (Is anyone besides me still submitting bids??).
Annually I list my top 5 best and top 5 worst UFA signings which always spurns some angst and hopefully a few chuckles.
Worst 5
#5 Worst: David Backes – $12,000,000 – 1yr – Penguins
Mr. Backes cashed in for 1 season at the expense of Justin's wallet. Really this wasn't about the amount paid as much as it is about the salary Backes was awarded. His salary was so high, Justin was forced to trade him to a conference rival for $9 million. With a three day loss of $3 million, Justin wins the privilege of the 5th worst signing of season 21 UFA.
#4. Worst: Dustin Brown – $11,480,000 for 4 yrs – Carolina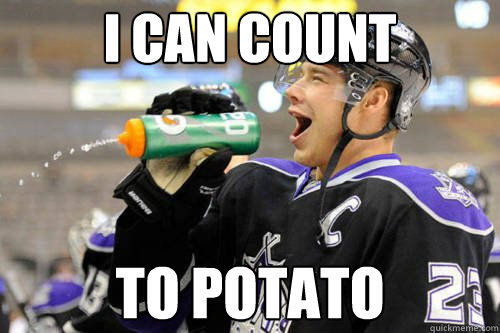 Mayo must not be watching many Kings games lately, if he did, he probably would have declined the extra 3 seasons. Dusty Brown's best days are a memory and if the Kings are smart they will buy him out this summer to join Mike Oxy Richards in the nation's capital where he and Mr. Trump can hit the clubs and drink milkshakes.
#3 Worst: Ryan Kesler – $14,308,000 – 4 yrs – Vancouver
Matt knows all about diminishing returns which makes the addition of Kesler good for the West. While it wasn't egregious what Kesler brings to the Nucks moving forward might be disappointing. The best part of Kesler on the Nucks is his 58 DI which will ensure that whoever plays Matt will get plenty of PP time.
#2 Worst: Chris Kunitz – $7,280,000 – 4 yrs – Detroit
I guess they are still broadcasting 2014 hockey games in Finland cause if Pasi was watching any Penguins games in 2016, he would have know Kunitz should not be signed more than 1 season if at all. Adding to this puzzling signing is the fact that the Wings look to be in a rebuilding phase. Who wants Kunitz, answer, no one.
#1 Worst Signing in UFA season 20 is: Franz Nielsen $10,000,000 – 1 yr – Nashville
It's kind of fitting that the leagues consensus worst GM makes my top 5 for worst UFA signing. It's almost like Steve said "I'll show them whose worst" and proceeded to overbid on Nielsen. While Franz could end up being Steve's top scorer…i'll just let that line simmer for the season.
So now we flip the script for my top 5 best UFA signings of season 20
Best 5
#5 Best: Joe Pavelski – $35,700,000 – 4yrs – Edmonton
I don't usually rate a high priced UFA in my top 5 but it was tough this year to even come up with 5 so Rod makes the list at #5 with The Big Pavelski. Simply for the fact that little joe has been one of the most consistent players for sim owners and the investment was well worth the dough.
#4 Best: Zdeno Chara – $10,800,000 – 2 yrs – TB
I don't know if it's a lack of interest in defensemen or just an overabundance but it felt like the D wasn't getting paid this year. Mike was able to lock up one of the beasts in sim hockey for a little over $10 million. While he didn't keep Zdeno, it still should be noted that Big Z was a steal at this price and subsequently, a steal for Matt at $11.5 million.
#3 Best: Mike Cammalleri – $16,800,002 – 4 yrs – Colorado
High scoring, mr consistent mike cammy cammalleri is a great investment for the Avs at this price. Adam is looking to win big and having Cammy with solid ratings and a decent cap hit will make the Avs a team to watch in season 21.
#2 Best: Joel Ward – $15,240,000 – 3 yrs – Montreal

Trevor really could have had it all, not only was his signing of Ward very astute but he turned around and flipped him shortly after for a profit. This is a $4 million profit in 48 hrs, Justin, see how this is supposed to work?
#1 Best UFA signing in season 21: Eric Staal – $8,400,000 – 4 yrs – NJ
Sometimes circumstances work out. In this case saif benefited from an overall malaise on all things Staal. What used to be the hottest name in hockey now has lost some luster. But in terms of long term value, Eric is the best add for the money, especially if he says later to Carolina and joins a top end team so he can play hockey without an entire team riding his back.
Well that's it, my top 5 worst and top 5 best…flame away.