Caps Look To The Future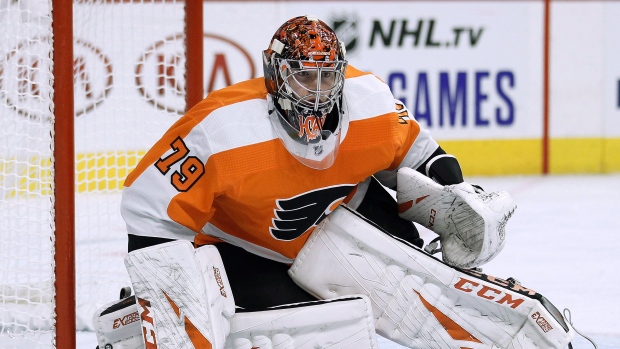 Washington Captials GM Todd Westacott held a press conference this evening to address the media and announce that the Nikita Kucherov trade drama that has dominated Capitals rumours since trade deadline when the organization made a decision to pull the plug on this season, has finally come to an end.
The Capitals organization would like to thank all parties that took the time to send in an offer and engage in trade discussions over the past few months. We have come to an agreement to send Nikita Kucherov and Keith Yandle to the Boston Bruins in exchange for Carter Hart, Martin Necas and Bryaden Schenn.
The possibility of a Kucherov trade first started to pick-up traction in the weeks leading up to the trade deadline with rumours swirling that the organization was not happy with the teams performance sitting on the playoff bubble with a star studded roster that was in danger of losing several key pieces to free agency in the offseason. GM Todd Westacott ultimately elected to move Patrice Bergeron, Claude Giroux and Thomas Greiss in seperate deals returning a host of draft picks and youth that is on the brink of being Pro Roster ready in Akil Thomas, Maxime Comtois, Jack Studnicka, and Dennis Cholowski. The question has still remained though as to what direction the Capitals would take moving forward.
Considering that both Bergeron and Greiss were pending UFAs and an inherent risk to be lost during free agency, none of these moves really committed the organization to a rebuild and left the door open for almost any option. Did they just move the players they knew they would lose in the offseason and still intended to make another run with key pieces like Kucherov, Carlson, Tarasenko, Yandle and Faulk still in place? Would they hang onto those pieces and use next season to attempt a quick retool before returning to contention? Would they sell of those pieces and commit to a full rebuild?
When we took some time to assess all the options in front of us, it became apparent that the key to any direction we took as an organization was what kind of deal we could find for Nikita Kucherov. If we were going to move him the return needed to setup us up for the long term with at least two core pieces we could build around. We believe that Carter Hart is a franchise goaltender who is very quickly proving to the world that he is about as real of a deal as they come. Martin Necas could potentially be a key piece on our top line very soon and at minimum will prove to be a very good second line two way player. You add Brayden Schenn on top of that and it just fit all the criteria we needed to meet in a Kucherov trade.
With the Kucherov saga now complete, the question becomes what is next for the Capitals. Will they go on a full fire sale and move out Carlson, Tarasenko, Faulk and re-trade Brayden Schenn?
I dont think it is any secret that all of those names are available in a deal that helps us move towards our ultimate vision. Not too long ago this organization appeared in back to back finals and very close to a Championship. That run was the result of a well executed plan to building our roster around some core youth pieces and a young stud goaltender named Brayden Holtby. We believe that we can follow that same plan on the back of Carter Hart, Martin Necas and other youthful pieces that we either already have in house.
So it looks like the plan will be a quick rebuild and hopefully a return to the later playoff rounds in a few seasons. With names like Hart, Necas, Thomas, Comtois, Studnicka, Cholowski, Dunn, Andersson and Labanc all on the verge of making the pro roster, and 11 draft picks in the next two seasons, a quick rebuild could definetly be in the cards. Pair that with some expected high end future pieces coming back in deals for Carlson, Schenn, Tarasenko, and Faulk in the near future, and it looks like the Washington Capitals should be a real threat a few seasons down the line.