San Jose Year 20 Draft Review
The Sharks weren't expecting to make a huge splash in the draft this season but with two extra picks as part of the Duchene deal, draft frenzy is officially kicking in San Jose.
Here's a rundown of the picks:
Evgeny Svechnikov
Pick: 9th Overall
Size: 6'3″; 205 lbs
Position: LW/C
Scouting:
For the second draft in a row, I've made a Russian my first pick. I've been talking about dealing Duchene for picks in this range for a while now but never pulled the trigger because I didn't think he would slip this far. However, when he did and Chris came calling, it was hard for me to turn the offer down. I was looking for a high-end prospect to replenish my pool as many of my top prospects have graduated or have been traded and I think I have one here. Svech is a large forward with impressive skills. He'll need to improve his top-end speed and defensive game but he's in a great development system in Detroit. Being physically mature, he'll likely reach the NHL sooner than many prospects (although that's not really a pressing need for my team), especially with Detroit new emphasis on younger legs.
NHL Comparison:
Eric Staal
ETA:
2-3 years
---
Julius Nattinen
Pick: 27th Overall
Size: 6'2″; 195 lbs
Position: C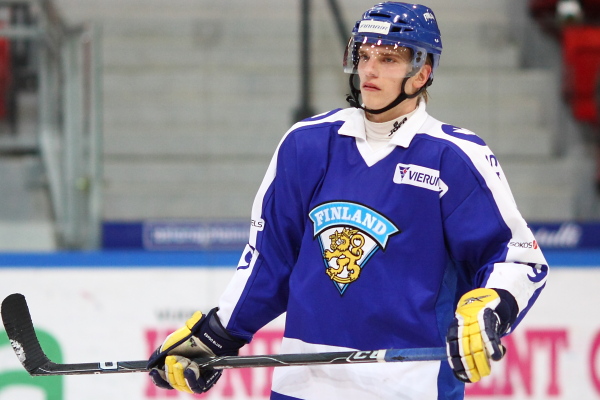 Scouting:
Along with my first pick, Nattinen adds some needed size to my prospects group. That was the determining factor for picking him over Aho. Time will tell if that was the right move or not. I was pretty happy to snatch him with the 27th pick as I think he's a good bet to make the NHL. He has already signed his ELC and has impressed at Ducks development camp. Nattinen is a good playmaker and solid defensively. I'm hoping that he continues to work on his offence in order to top six forward instead of a good 3rd liner.
NHL Comparison:
Mikko Koivu
ETA:
2-3 years
---
Vili Saarijarvi
Pick: 39th Overall
Size: 5'10"; 163 lbs
Position: D
Scouting:
I wasn't thrilled with the forwards left on the board so I decided to go the homer route and take Saarijarvi. At his size, it's more likely than not that he won't make it in the NHL but if he does overcome his height, he'll be an impact PP defenceman. Saarijarvi's a terrific skater with great offensive abilities and tore up the U18 WJC for Finland. He's also a fearless defender, which helps off-set his slightness somewhat. He's a long-term project that I'll stash and visit later.
NHL Comparison:
Sami Vatanen
ETA:
4-5 years