Toronto Top Ten Prospects
Updated: February 19, 2016
Hi, my name is Alex and I'm an addict. A drafting addict, that is. I love this league and I love to win but what I really enjoy is researching and selecting draft picks.  I tend to draft a blend of safe and high risk/high reward picks. Below is a list of my ten top prospects. I've included an honourable mentions sections since the first two are on the cusp of graduating. I have not included any goaltending prospects, Macdonald/Sandstrom could potentially fight for 10th spot or HM's but I've decided to leave them off.
1. Connor McDavid
NHL: 22GP / 10G / 16A / 26PTS
McDavid takes top spot because, well, he's the best prospect in the game currently. A generational player that suffered an unfortunate injury early in the season that likely derailed a Calder winning rookie season. His injury has delayed his emergence in the DHL by at least a season, but there's no denying he'll be one of the best SIM players in short time. I could list all the things that make him a great player but I'll just say that he's great at everything.
2. Jack Eichel
NHL: 58GP / 17G / 22A / 39PTS
A No.1 Center on any team in the league, Toronto was lucky enough to land Eichel in the lottery this past draft. A fantastic athletic specimen, he'll always be compared to McDavid, which isn't fair but a testament to just how good he can be. Great skating, perfect size off the charts hockey sense and a missle of a shot. Eichel will be a great No.1b center. There is a chance that Eichel graduates as early as this off-season.
3. Nikolai Ehlers 
NHL: 57GP / 13G / 13A / 26PTS
The center piece of Toronto's biggest trade in the rebuild, Ehlers is extremely fast with top line game breaking offensive abilities. He's ability to do everything at top speed and the way he thinks the game makes him a fantasitic future winger for McDavid or Eichel. Ehlers is having a respectable rookie season on a under performing Winnipeg Jets team. If the Jets can make the playoffs I think Ehlers puts up significant numbers.
4. Mitch Marner
OHL: 43GP / 34G / 55A / 89PTS
The core piece in the deal with Tampa, I felt that I needed to make a significant move to land either Marner or Rantanen in addition to Eichel. Marner is a wizard with the puck, his offensive abilities are akin to Patrick Kane although arguably not as high end. Realistically, Marner has all the tools and the toolbox to be a dynamic game-breaking offensive force for the Leafs. The only unfortunate thing right now is the CHL/NHL agreement, he has nothing left to learn at the Junior level but I fear a jump to the NHL might be too much for him.
5. Colin White
NCAA: 28GP / 17G / 19A / 36PTS
If it wasn't apparent before, it should be now. Boston College is my team. I tend to gravitate to their players and think they do a fantastic job of not only recruiting some of the top talent, but developing them into great pros. White has taken the Nation and the hockey world by storm this season. I don't think anyone expected him to have the kind of Draft +1 season as a freshman in one of the most challenging collegiate hockey markets. White was always projected to be an all-around middle-six forward akin to Ryan Callahan, however, he's showing serious offensive instincts and if he continues to progress at this rate there's an argument that White could end up being a great 2nd line two-way center that can put up serious point totals in the NHL. He is most definitely Toronto's fastest riser currently.
6. Alex Tuch NCAA: 29GP / 12G / 12A / 24PTS
Another Boston College prospect, Tuch is a big skilled power forward that has the tools to be a very good second line winger that can put up points. Tuch impressed many with his Freshman year leading BC's team offensively and playing a strong role for the USA WJC team. However, in the off season Tuch underwent a small surgical procedure on his knee and it seemed to affect the first half of his season this year. Snubbed from Team USA for the WJC, what was impressive is that he didn't let it hinder his development, he put his head down and went to work, he's been impressive since mid-season, racking up points and playing an integral role in helping BC win the 2016 Beanpot tournament with a beauty OT snipe from the slot. Overall, Tuch is still going to be an offensive force in the NHL as soon as the end of this NCAA season, although it's likely he stays another year with BC.
7. Mike Matheson
AHL: 43GP / 5G / 9A / 14PTS
While I didn't draft Matheson, I was very happy to see in him my prospect stable. Another BC Eagles product, Matheson is a well rounded extremely mobile defensemen that's likely to become of top pairing powerplay QB for Florida. Most comparison land in the Brian Campbell area based on his skating and offensive skill set. Kid can play and is on the cusp of being an NHL regular. He's been impressive in his first pro season and has worked hard on the defensive side of the game. He'll most likely be the first call and challenge for a spot at camp this coming season.
8. Brandon Montour
AHL: 45GP / 8G / 30A / 38PTS
The core piece of the Brandon Sutter deal with San Jose (and also the only trade i'll ever come close to "winning" against John, ha) Montour is an absolute gem in waiting. Finally getting noticed by mainstream hockey fans, Montour has taken a unique path from being a 2nd round NHL pick to one of the better looking prospects in the league. In the 2014-15 hockey season Montour played for the USHL's Waterloo Blackhawks, U-Mass Amherst Minutemen to the AHL's Norfolk Admirals. You'd expect that kind of progression to be daunting for a defensemen but Montout has lit every league he's played in on fire offensively. In that 2014-15 season he scored 21pts/17gp, 20pts/21gp, and 10pts/14gp respectively. Hockey IQ and work ethic, check. Skating and pro calibre shot, check. Montour looks like an absolute steal, and from everything I read about him he's arguably the Gull's best and most dynamic and game breaking player.
9. Jeremy Roy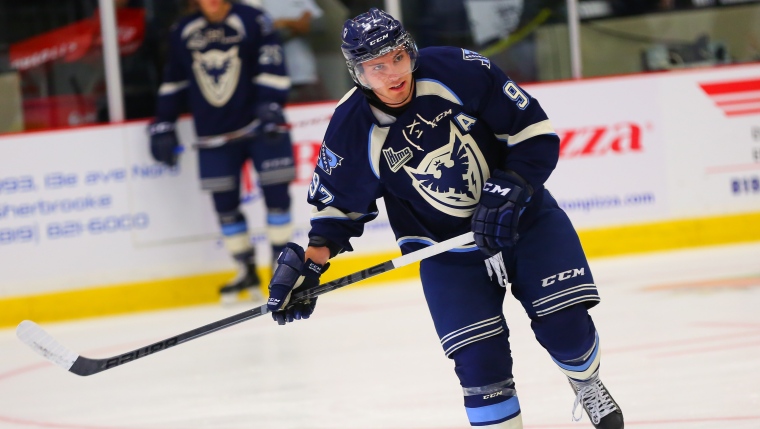 QMJHL: 42GP / 6G / 28A / 34PTS
Jeremy Roy might be one of my best prospects/players in a few years. This often injured enigmatic player has every talent/skill you want in a defender aside from size. Not only does he have all the skill/talent, they are borderline elite. Many scouts and pundits have said if they kid puts it all together he'll be a game changing defender (comparisons to Doughty have been mentioned by various scouts). The problem? he needs to stay healthy. His Draft +1 year hasn't been great, but he's also been working on the defensive side of the game. He had a decent training camp and showed flashes of brilliance but it's obvious that he needs to find consistency and really start putting up strength and mass to help keep his body from breaking down. I'm excited to see what the future holds for this kid.
10. Mitchell Stephens
OHL: 27GP / 14G / 11A / 25PTS
Every team needs those offensively dynamic forwards, but just as important on the 2nd line guys, the ones that are going to put up points and stop the other team from doing the same. Stephens is exactly that type of player. Stephens has the skating, shot, speed, work ethic and leadership skills to be a great 2nd line center akin to Ryan Kessler. If he can improve his consistency and playmaking ability he could be a tweener on the 2nd and 1st line. Unfortunately, one of Stephens greatest assets doesn't translate to the SIM world. His leadership is fantastic.
Honourable Mention:
1. Jordan Schmaltz
AHL: 50GP / 3G / 22A / 25PTS
A mobile offensive defensmen on the cusp of being a full time player. Has all the tools to be a 2nd pairing defender that has first PP unit offensive abilities. If Shattenkirk gets traded, look for Schmaltz to be a replacement sooner than later.
2. Aleksi Saarela
SM-Liiga: 42GP / 15G / 12A / 27PTS
Once touted as a top 5 talent, Saarela's progression had stalled the past few years due to serious injury concerns. The Finnish born forward suffered multiple concussions over a short stretch of two seasons and saw his draft stock plummet. Skip to the 2015/16 season and Saarela has returned. One of the most impactful players on Team Finland's WJC team Saarela's offensive talent is still exceptional but it's his other play that has him becoming one of the Rangers most impressive draft selections. Watching him play often, I see a lot of Datsyukian skills (not saying his ceiling is/will be the same, although it actually could be.) he is a fierce checker, breaks up plays and strips pucks from opposing players. Then using his strong skating and speed to push the puck up the ice he often scores or sets up team mates. His play has taken off since the WJC's. I expect very good things from Saarela. He could find himself well on the top ten list as quickly as next season.
3. Esa Lindell
AHL: 52GP / 10G / 21A / 31PTS
Lindell is a strong all-round defender that is soon be be a staple in Dallas. His offensive game has improved greatly. He's one of those defenders that doesn't stick out for either good or bad. He'll likely be a 2nd pairing guy that sees 2nd PP unit time and be played in all situations.
4. Francis Perron
QMJHL: 49GP / 37G / 49A / 86PTS
Perron is a prime example of a diamond pick in the late rounds. This kid just oozes offensive skill. His vision and hockey smarts are borderline elite but his stature and strength are serious concerns. However, Perron has lit the Q on fire this season. If he can bulk up the potential for his offense to translate to the pros is mouth-watering.
5. Ryan Donato
NCAA: 23GP / 10G / 6A / 16PTS
Elite vision, slick hands, rocket shot decent size, great hockey genes etc. Donato has the potential to be a very good scorer at the pro level. If his skating improves he'll be a dynamic force for the Boston Bruins. His Draft +1 progression has been impressive while playing for Harvard.